Tiffany O'Keeffe
UX Designer
Accounts Reconciliation Dashboard
Improved payment processes through a more streamlined interface
CLIENT
An aviation company based in Dublin
MY ROLE
UX Designer
User interviews, persona empathy mapping, problem-solving matrix, paper prototyping, wireframing, interaction design, visual design
PROJECT SUMMARY
Design of a centralised Approval page of an existing enterprise app
Overview
An aviation company wanted to simplify the accounts reconciliation component of their existing enterprise management system (EMS). The EMS dealt with retail transactions on flights, such as in-flight duty free.
The project scope comprised designing:
1. a dashboard with search feature, recent comments, and a prominent alert system for unreconciled transactions;
2. a centralised Approvals page
Prior to the redesign, users referred back and forth to as many as five windows at a time, to perform tasks like approving vendor payments and resolving transaction issues. The challenge was consolidating several other pages into one interface while ensuring users have everything they need to do their job.
Process
I joined the project team as interaction and visual designer halfway through the research stage. I kept myself up to speed with the project while learning new information alongside the UX director/project manager and the researcher. The research involved thorough workshops with the client's product, IT, and finance teams, a walkthrough of the current system, empathy mapping, user interviews, persona creation, user stories, and problem-solving matrix.
It was an intensive few days of brainstorming and sketching paper prototypes to nail the information architecture and user flow. We mostly resolved the general UI at low fidelity wireframe stage. The remaining hurdle was to design a navigation that also served as an alert system.
I came up with a few solutions and tested the high fidelity wireframes internally with the team through InVision.
Having a fresh pair of eyes worked really well; the feedback I received was exactly what I needed to iron out the navigation experience.
Payment Approval Page

The Approvals Page is a consolidation of at least 5 other pages: Cash Approval, Card Approval, Stock Approval, Sales Details, Stock Details, among others.
We grouped the approvals together in a collapsible table in one tab, a separate tab for Sales, and another tab for Stock.
We worked closely with the finance and product team (the former are users of the product themselves) to simplify the tables and remove unnecessary columns. Some of them had so many columns, they didn't fit the screen. A few of those columns didn't even have data in them. The new tables displayed only pertinent information.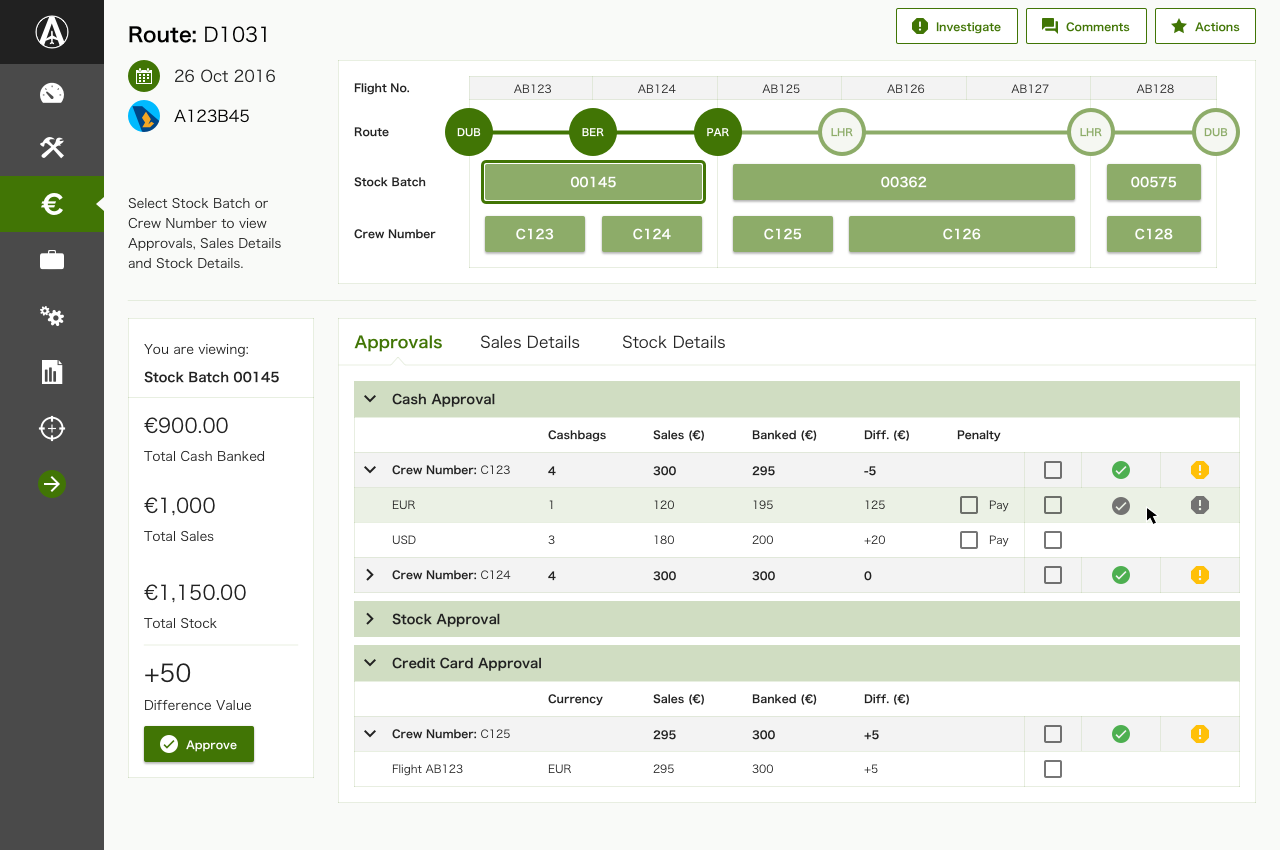 Outcome
The visual design was signed off by a happy client, who commended the team for our capability in understanding complex industry-specific processes.