Tiffany O'Keeffe
UX Designer
KnowLab Search and Discovery Application
Making global regulatory information accessible through a single interface
CLIENT
The project was a collaboration between RecommenderX (former employer) and a channel partner within the pharmaceutical industry, with the former responsible for product development and the latter for end-user testing.
MY ROLE
UX Designer
User interviews, user journey mapping, competitive analysis, wireframing, InVision prototyping, interaction design, visual design
PROJECT SUMMARY
The project entailed the development of a search and discovery application for pharmaceutical regulations and guidelines. Most companies outsource their regulation questions and compliance checks to external consultants, leading to production time delays, materially impacting productivity. Those who do it in-house face the arduous task of scouring several government portals for relevant regulatory information.
KnowLab is a one-stop-shop knowledge platform, aggregating multiple data sources in a single interface. Through machine learning (including automated topic identification and author name disambiguation), KnowLab enables pharma companies to find and discover global regulatory information themselves, ultimately reducing the time and cost to stay compliant.
Problem to be solved
In the pharmaceutical, biotech and medical device sectors, companies must comply with regulatory legislation. Countries have their own regulatory agencies, like the Food and Drug Administration (FDA) in the United States and European Medicines Agency (EMA) in the EU. There are also groups like The International Council for Harmonisation of Technical Requirements for Pharmaceuticals for Human Use (ICH) who offer harmonisation guidelines for these agencies.
Different regulations, different jurisdictions, and different information portals mean that accessing regulatory information efficiently and effectively is difficult. This is especially challenging for companies with multinational operations who must comply with regulations for multiple countries e.g. drugs researched in Germany but manufactured in India. Most companies outsource their regulation compliance checks to external consultants, leading to production time delays, materially impacting productivity.
KnowLab was developed to make accessing and exploring the regulations and guidelines from all jurisdictions as intuitively and as efficiently as possible. It aggregates regulatory data from various sources so that they are accessible through a single interface. Stage 1 included data from the FDA, EMA, as well as the harmonisation guidelines from the ICH.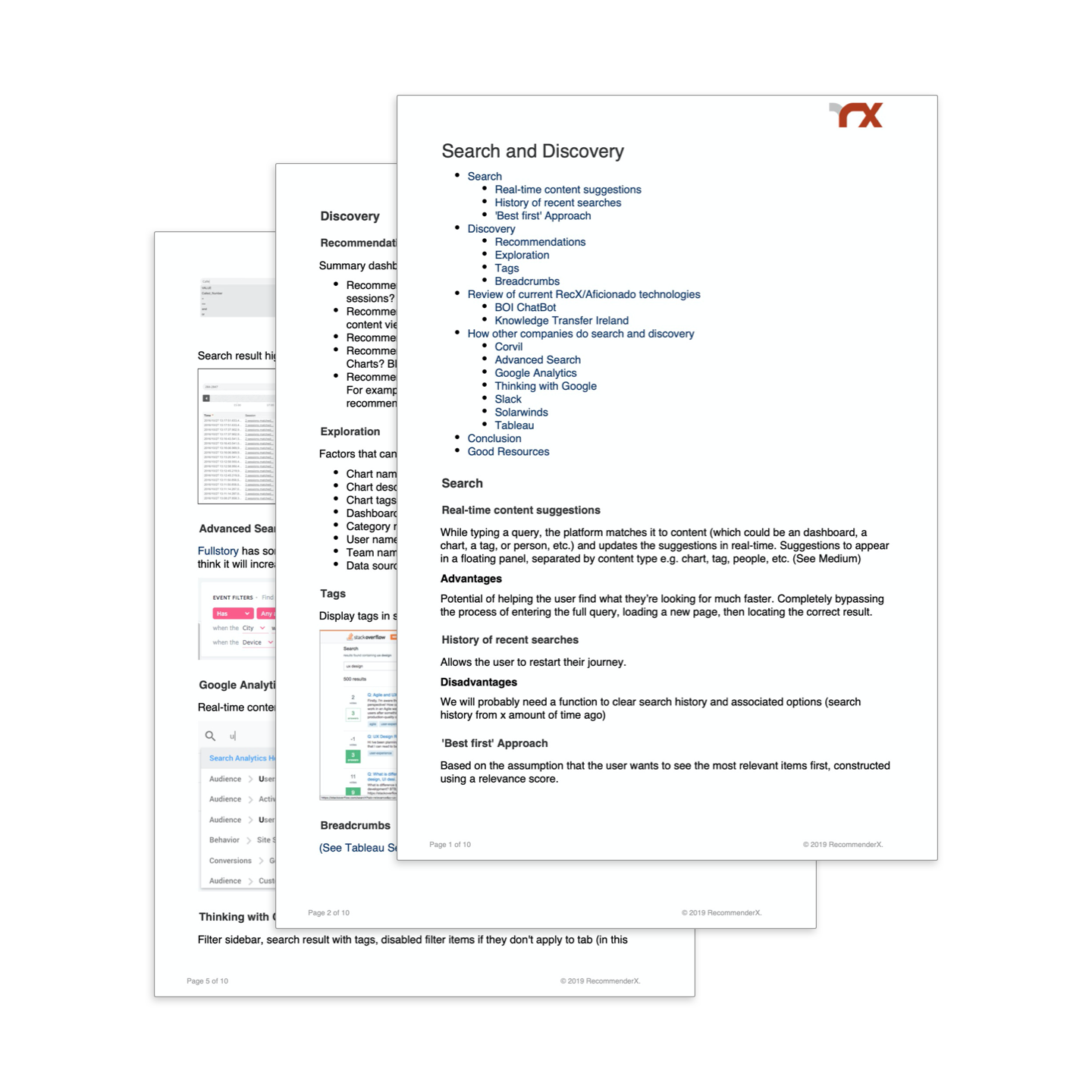 The discovery phase involved workshops with the partner pharma company to identify pain points when accessing regulatory documentation.
Within the internal team, I worked closely with the software engineers and data scientists to understand the information architecture, find out what other metadata we can scrape (e.g. date published), and technical limitations of the platform.
Each country structured their regulatory documents differently, but generally they followed a grandparent-parent-child format i.e. chapters, sections, sub-sections, etc. One of the challenges was taking those levels into consideration when it came to designing the search results and overall wayfinding. I needed to strike a balance between displaying the necessary information without cluttering the interface.
My review of the FDA, EMA, and ICH websites and competitive analysis on similar regulatory information management systems provided insight on interactions and component behaviour commonly used in these industries. At the same time I also researched design best practices that I can apply to the platform.
KnowLab was a customisation of RecommenderX Advise platform's search and discovery module. I usually start with low fidelity wireframes, however, since we were concurrently building Advise, I used already existing assets from the Advise Sketch library to make medium fidelity wireframes for this project. Advise was designed to be a whitelabel product with the ability to be customised per client.
One of the challenges of simultaneously designing two similar yet different projects was creating two experiences – a "must have" and "nice to have", the latter for inclusion in the final version of Advise.
The "nice to have" features included a tag for superseded regulations in the search results, ability to group by grandparent or parent, publication status, related topics, internal links within regulations, and revision history.
Both experiences were transformed into clickable InVision prototypes to gather feedback from the client (for KnowLab) and the internal team (for both KnowLab and Advise). The designs were iterated on based on these feedback.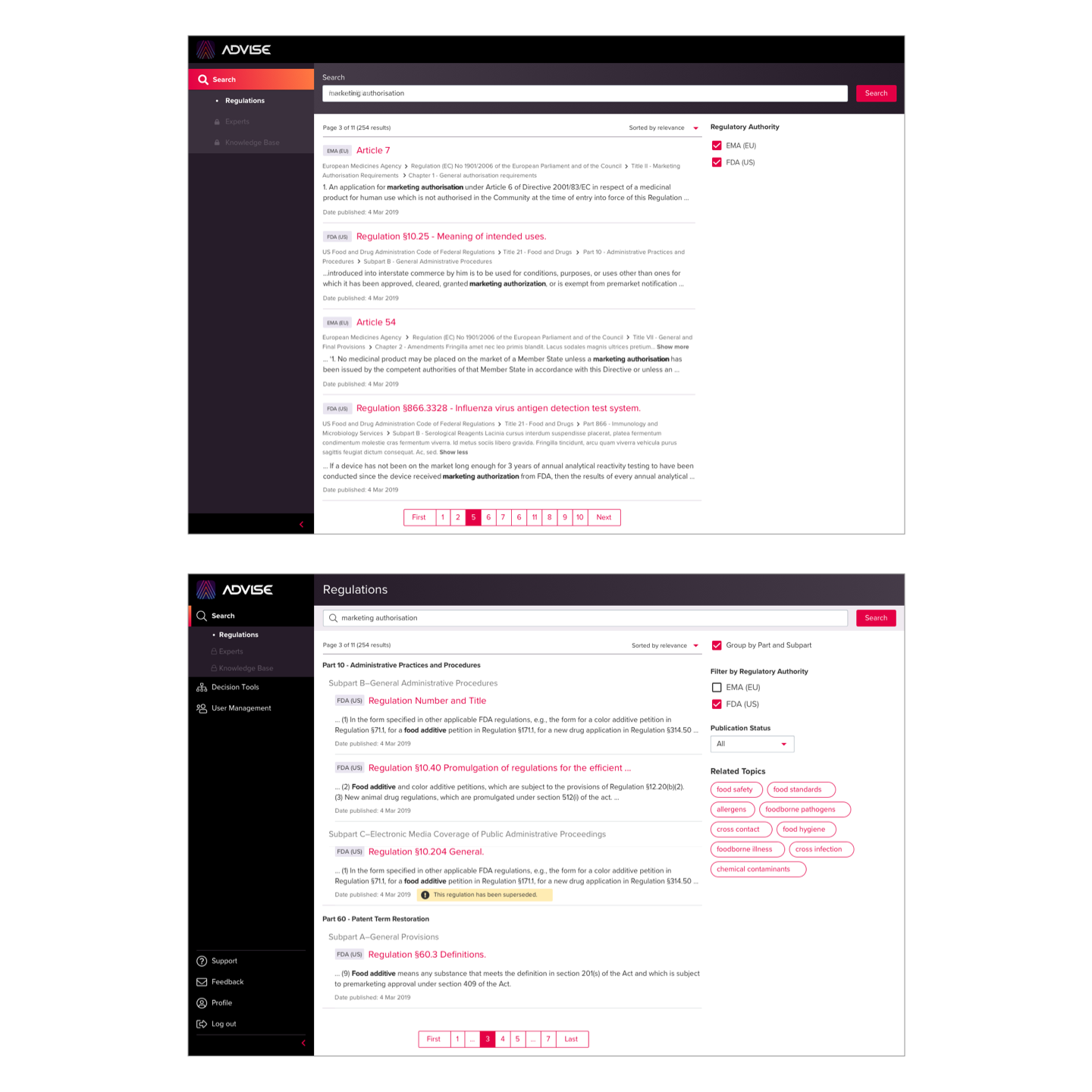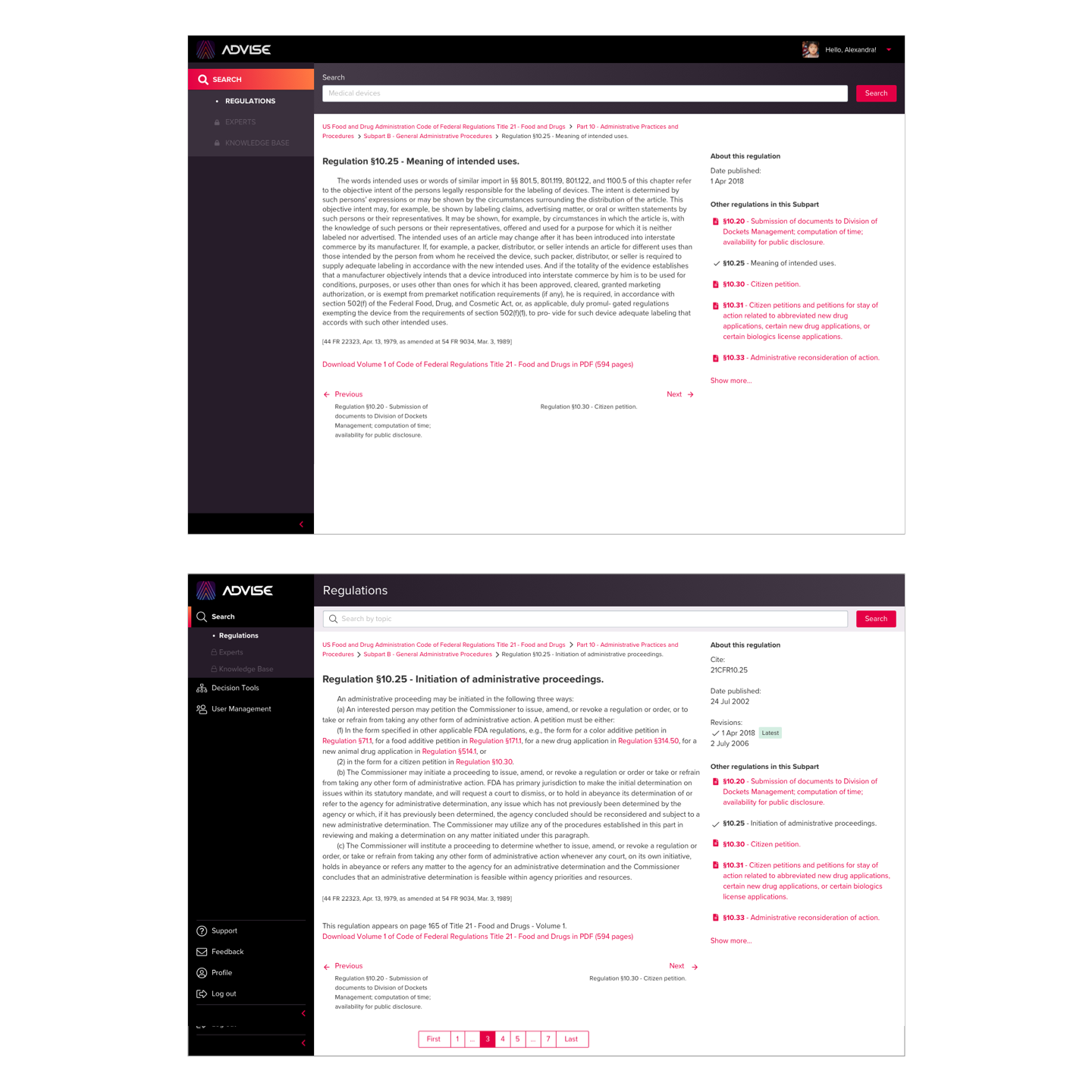 Outcome
KnowLab was launched to three biotech and pharmaceutical companies. It also added regulations from the Pharmaceutical and Medical Devices Agency from Japan.
KnowLab was a precursor to RecommenderX Advise platform's search and discovery tool. The new tool retained KnowLab's features and functions but using the Advise Design System, which was being developed at the time KnowLab was delivered.