Tiffany O'Keeffe
UX Designer
Advise by RecommenderX
A predictive analytics platform to help businesses make data-driven decisions
COMPANY
RecommenderX
MY ROLE
UX and UI Designer. Facilitated workshops, responsible for navigation, filtering, search and discovery, login/sign up, notifications, feedback. Involved in data visualisation, dashboard design, design system, and UX specifications.
PROJECT SUMMARY
Advise is a data analytics platform designed to present both numerical and textual data. It ingests and aggregates data from multiple sources and analyses and visualises them into a single interface. It comes with powerful filtering, search and discovery capabilities, as well as in-context predictions and recommendations through the application of machine learning.
Advise is a white-label product and is configurable to different domains and use cases. It has already been deployed in a variety of industries including consumer packaged goods, retail, pharma, and travel.
Because of disparate data sources, analysts and data scientists end up spending more time and effort gathering and cleansing data instead of analysing and generating insights for their business. As gatekeepers of data, they also respond to requests for information from colleagues who may not have access to the data portals or may not have the time to search through them to look for something specific.
Advise addresses these by aggregating multiple data sources and displaying them in one interface. It democratises data and empowers users through tailored dashboards, configurable to show the big picture or drilled down for granularity.
Advise aggregates multiple data sources and presents them in one interface.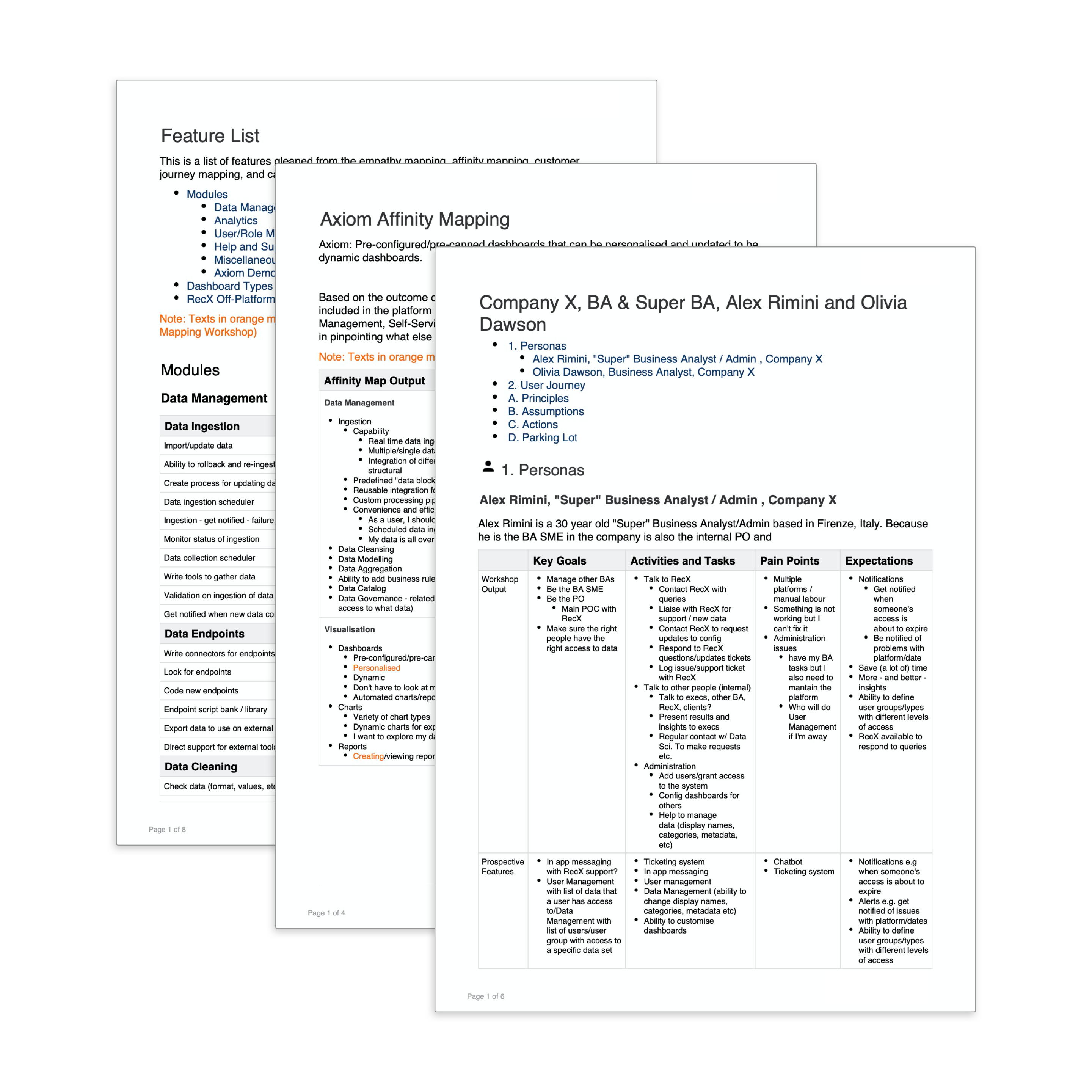 Advise was developed alongside other projects, smaller versions of itself (see CPG and KnowLab). The team combined research from these projects with those for the main platform. Learnings and user feedback from the smaller projects shaped Advise to what it is today.
Early Research
I led the affinity mapping workshop attended by management, design, product, and engineering team to organise ideas and expectations of the platform. We synthesised the findings to what was technologically feasible for a minimum viable product.
Other workshops followed, including empathy mapping, persona creation, journey mapping, and card sorting. I produced the workshop outputs and published them on our company Confluence space for reference and feedback.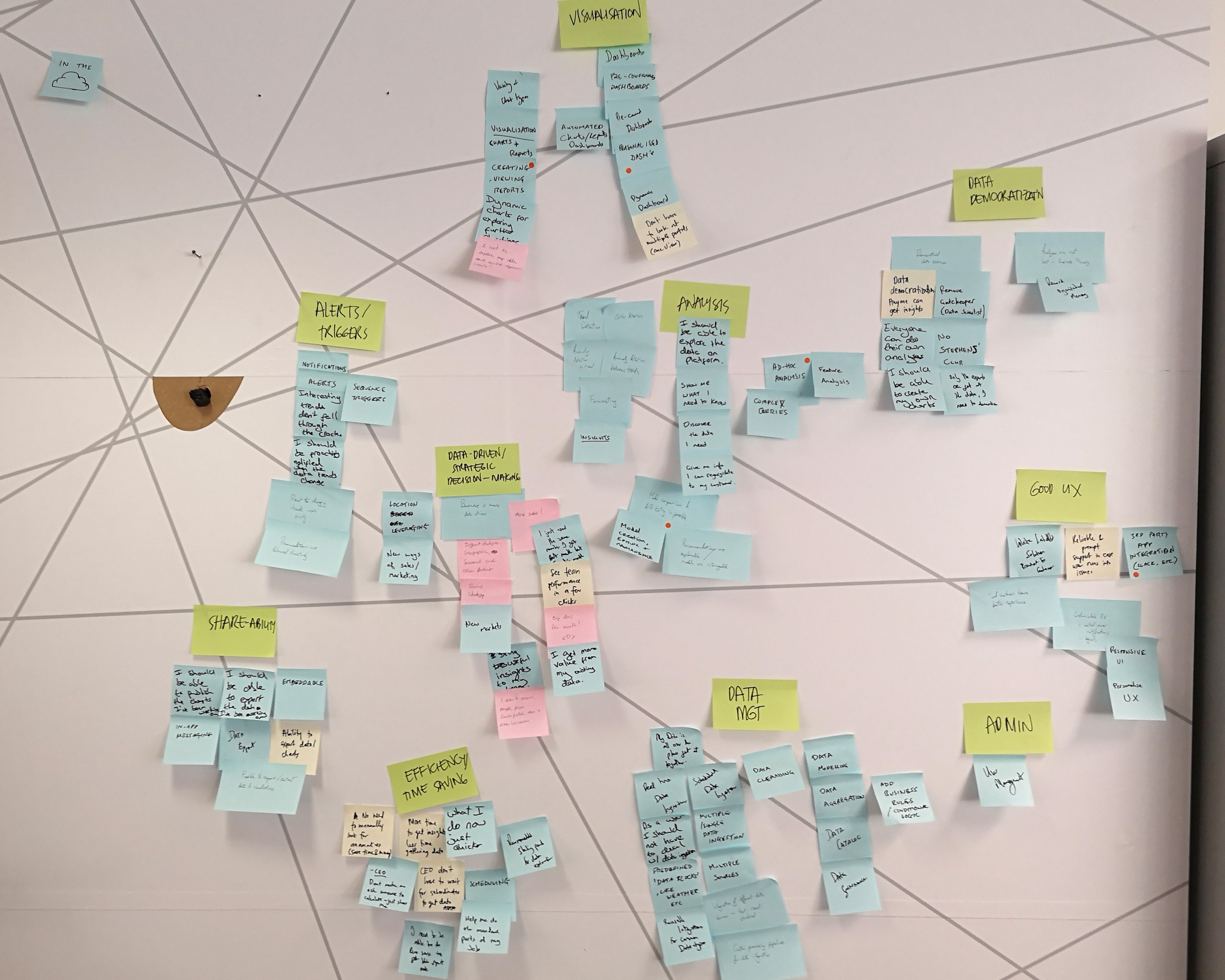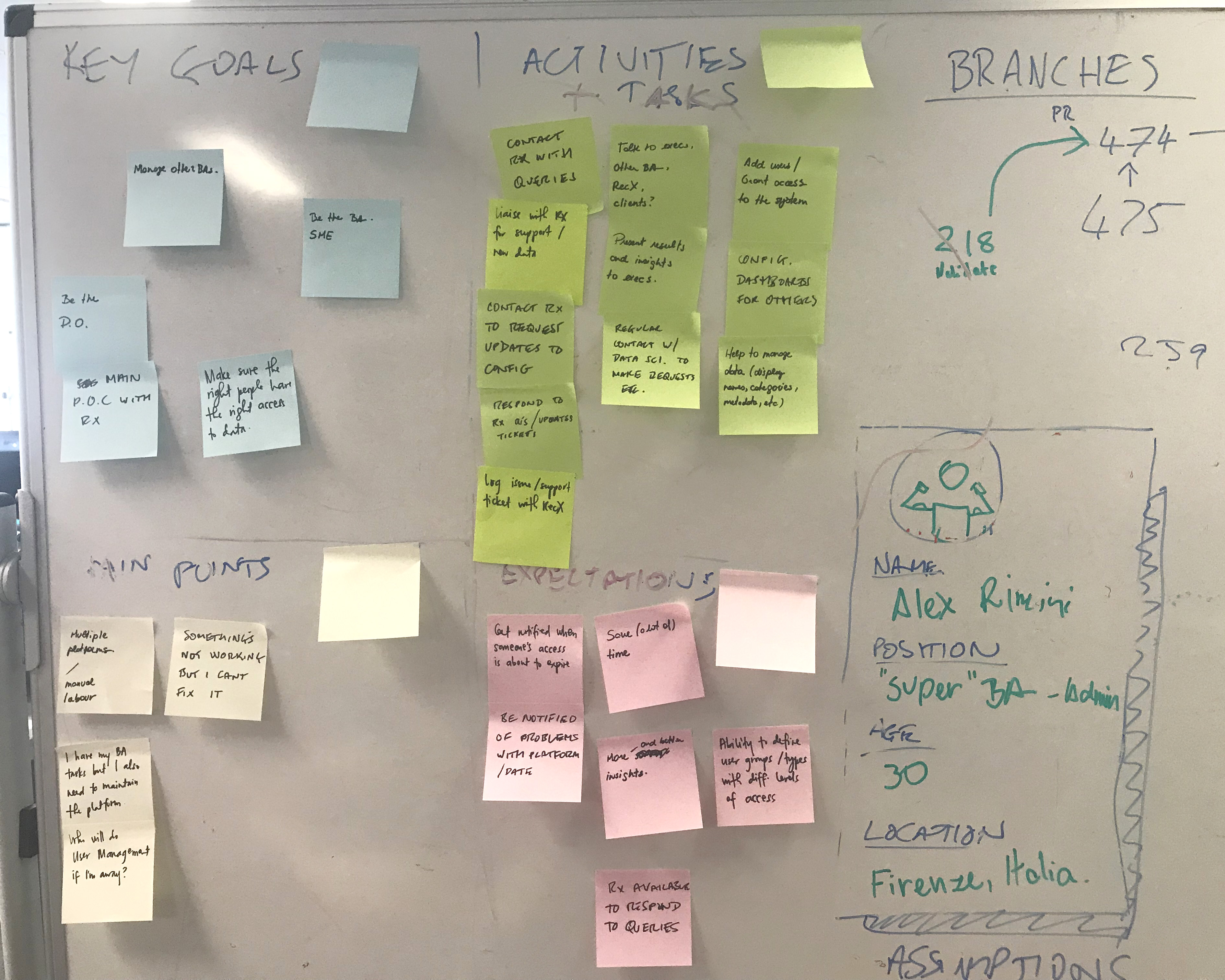 Advise was initially intended to be built from open source data visualisation tools. The CPG project unearthed limitations resulting in the decision to build a separate platform.
The following are the components I was responsible for, which addresses these limitations.
Navigation
While it worked for the CPG project, the open source solution was not ideal for a product requiring several dashboards. The side menu did not display submenu items. It also did not indicate which dashboard the user is currently looking at.
I designed the navigation mobile first. I started with paper and whiteboard sketches, followed by medium fidelity wireframes (as we already had the mock up assets from the CPG project). I published the flow on InVision to gather feedback from the team.
Following rounds of iteration and final approval, I produced a specifications document outlining the behaviour on mobile and desktop.
The Advise Design System was still in its very early stages when I designed the navigation behaviour. To view the navigation with the design system applied, you can have a go at the live demo from the RecommenderX website (registration required).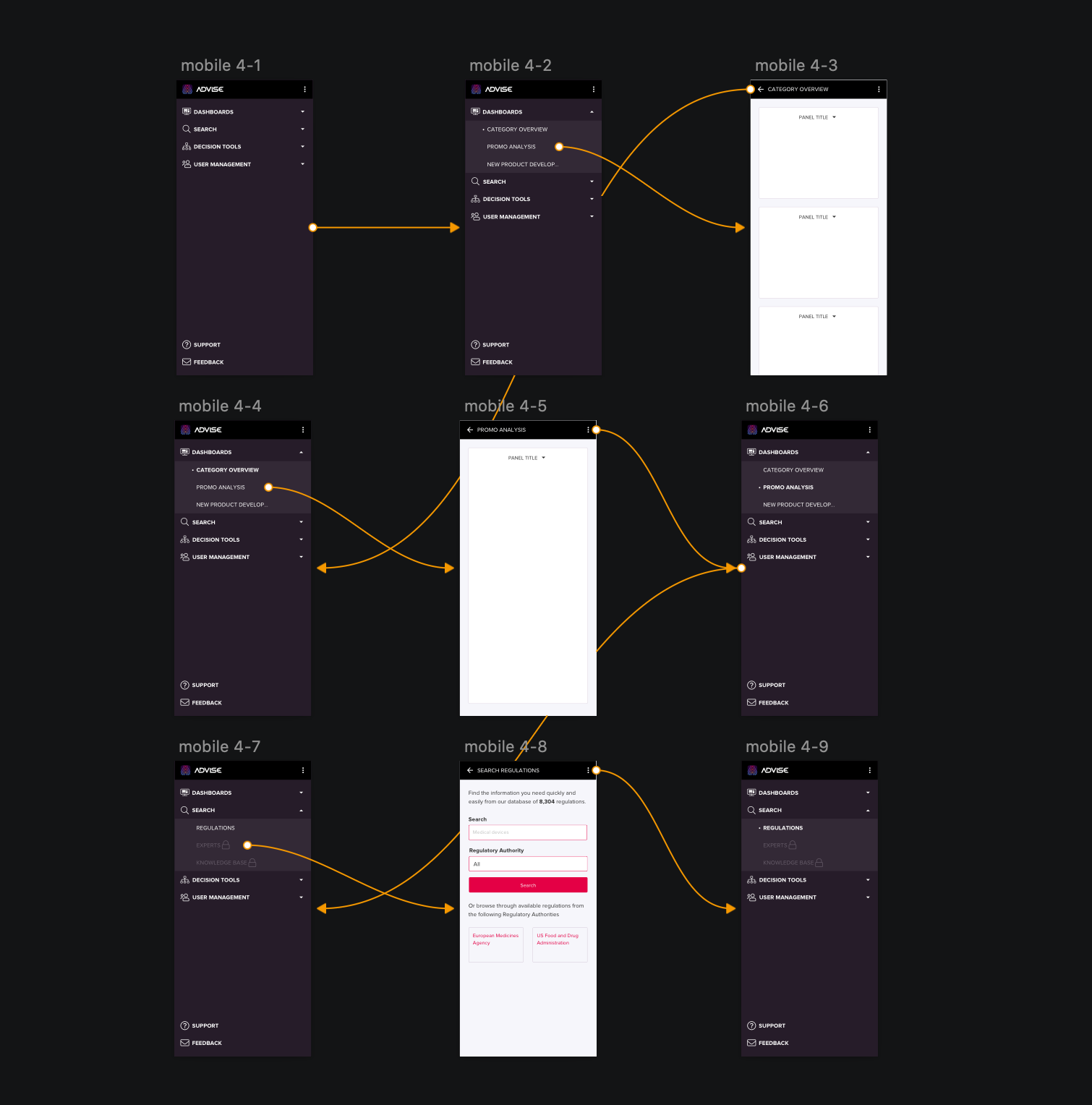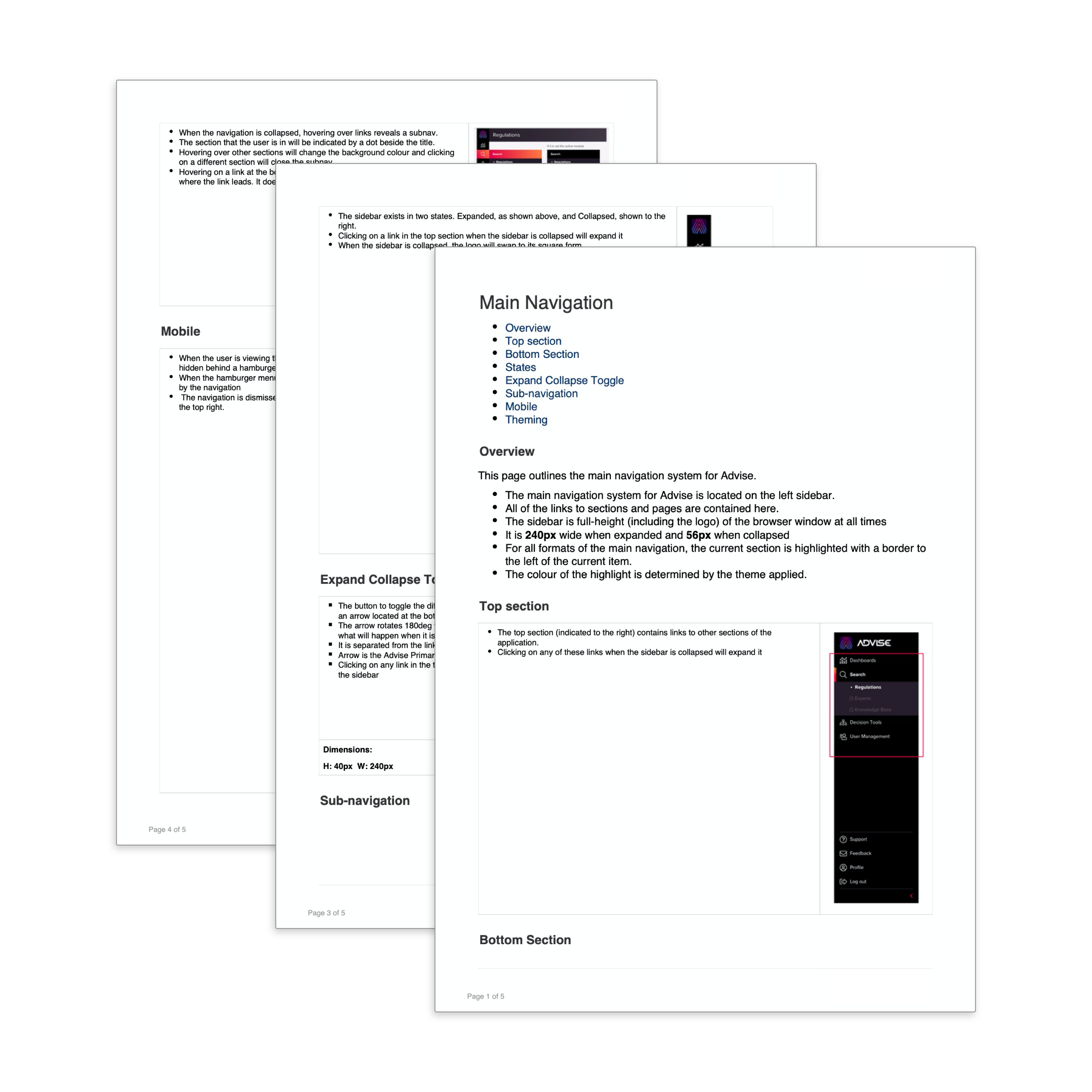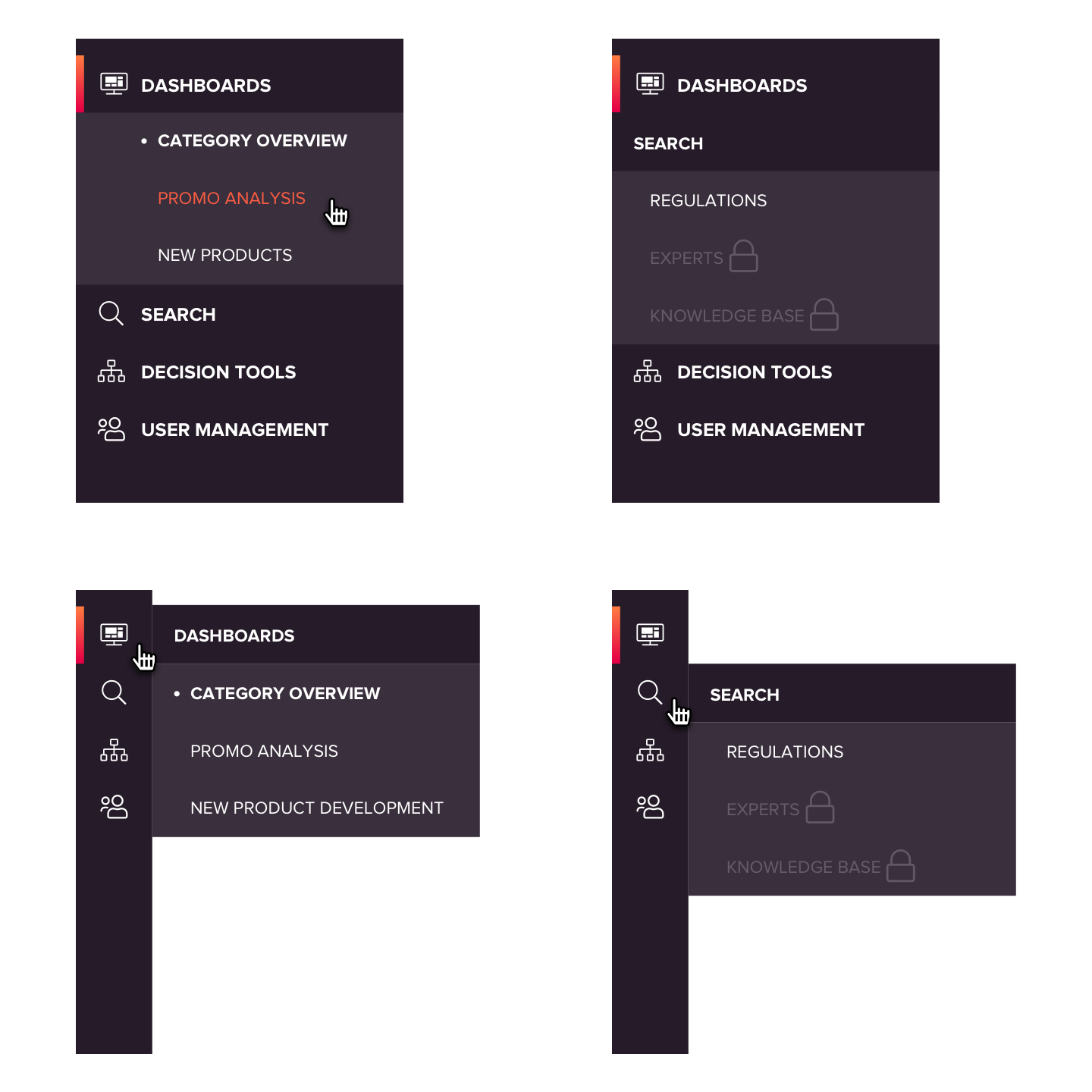 Filters
The filter area in the open source version was above the visualisations and could not be collapsed. It was fine for the CPG project but will not be great for dashboards with dozens of metrics to drill down. The charts and tables will be pushed further down the screen. I needed to find a way to show the applied filters without having to obscure the main content. I started with researching and reviewing similar platforms that can handle large amounts of data, including the market research portals the CPG client used. I also worked closely with the frontend team and the rest of the design team to get their input on feasibility.
I started with paper and whiteboard sketches. For digital wireframes, I found InVision to be more efficient when gathering feedback because:
stakeholders were often away. I can get their input from the comments even when they were out of the office.

We can record comments as we go during design review sessions.
Below (L-R): Sketches from preset creation flow; some filtering wireframes that didn't make the cut; ideating on different filter types.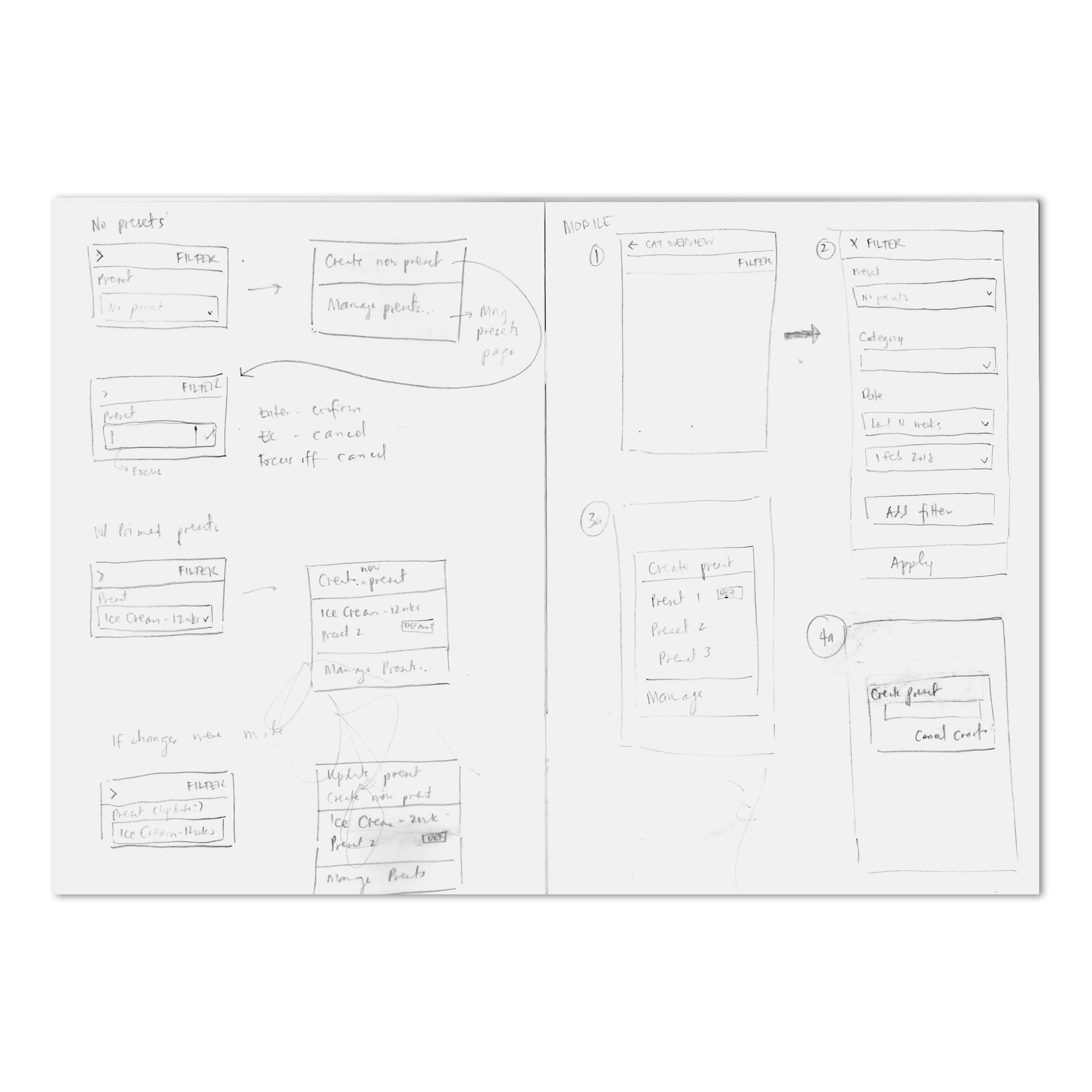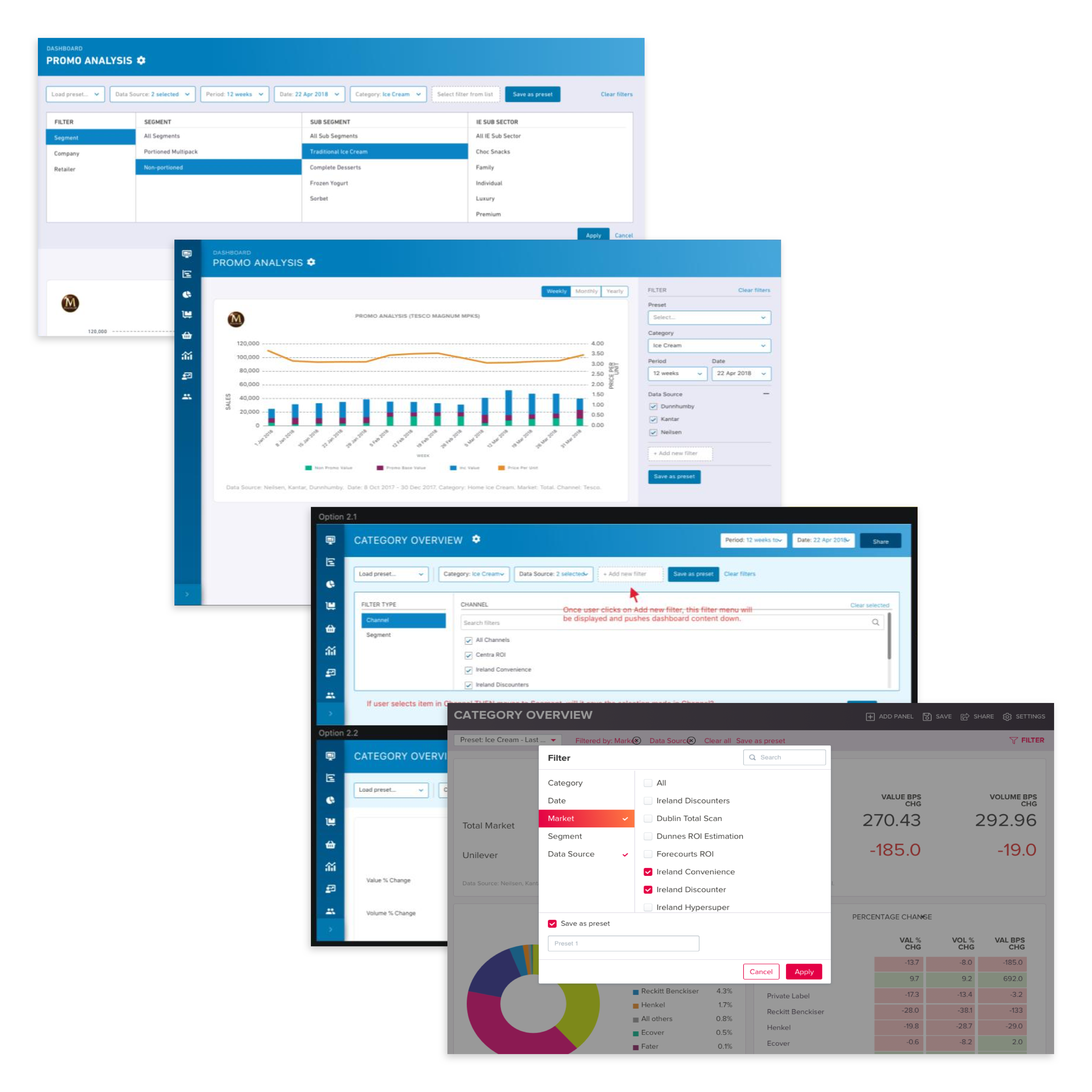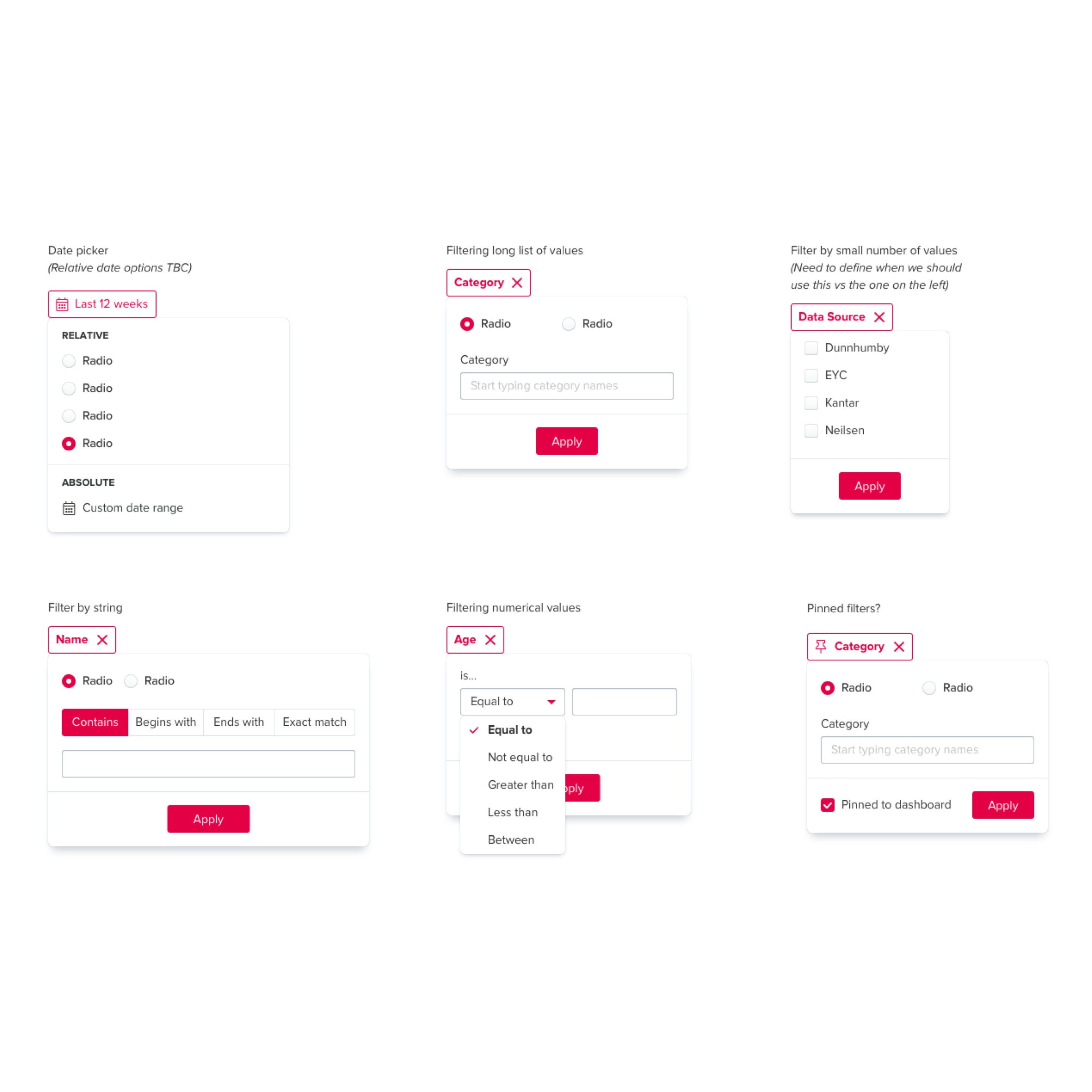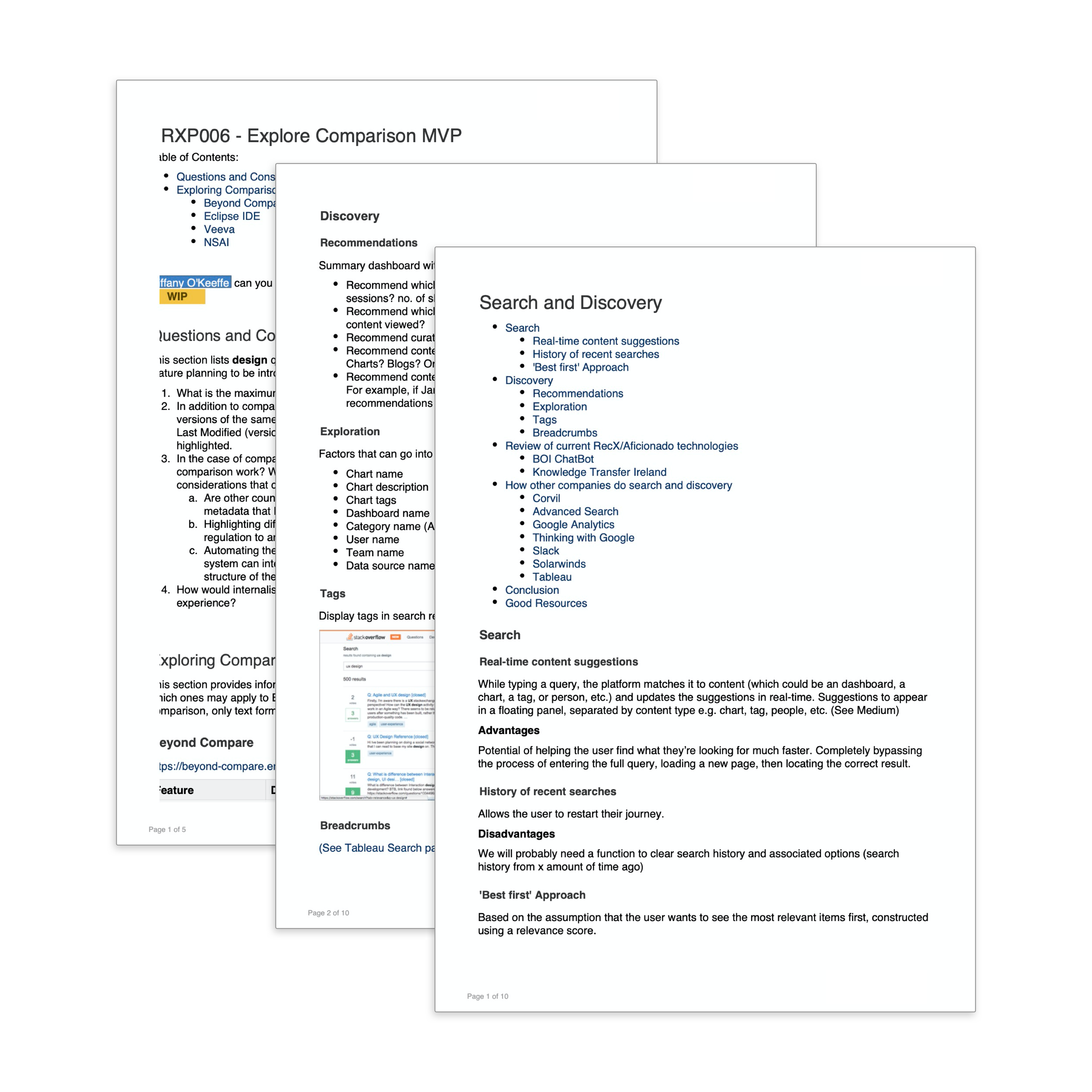 Search and Discovery
In addition to data visualisation and predictive analytics capabilities, Advise also works with textual data and can deploy knowledge base solutions over complex and large document repositories. These knowledge bases include automated topic identification and author disambiguation using machine learning.
I led the research for this functionality. It involved reviewing RecommenderX's existing technologies and competitive analysis of products of similar capacity. In this phase, I learned more about natural language processing and search and leveraging metadata to discover related items.
I also looked into a potential comparison feature and compiled questions and considerations from a design point of view.
A few weeks into the research and initial design phase, an opportunity came up to build a minimum viable product (MVP) through the KnowLab project. It was a knowledge base for the pharma industry where chemists and compliance officers can quickly find regulatory guidelines and information related to their products.
This meant I designed for an MVP and a blue-sky product simultaneously – blue-sky first then scaled it back for the MVP. I was involved in meetings with the pharma client and held regular feedback sessions with the data scientists and frontend developers. The KnowLab project validated the main structure of the interface and the MVP search and discovery features.
The Advise Design System was still in the very early stages at the time I made the wireframes.
(Below) Search Results
Left to right: Features included in KnowLab; wireframes for Advise; with Advise Design System applied (Disclaimer: this was mocked up by a different designer).
KnowLab didn't have a filter for Publication Status, links to related topics, and status indicator for documents that have been superseded.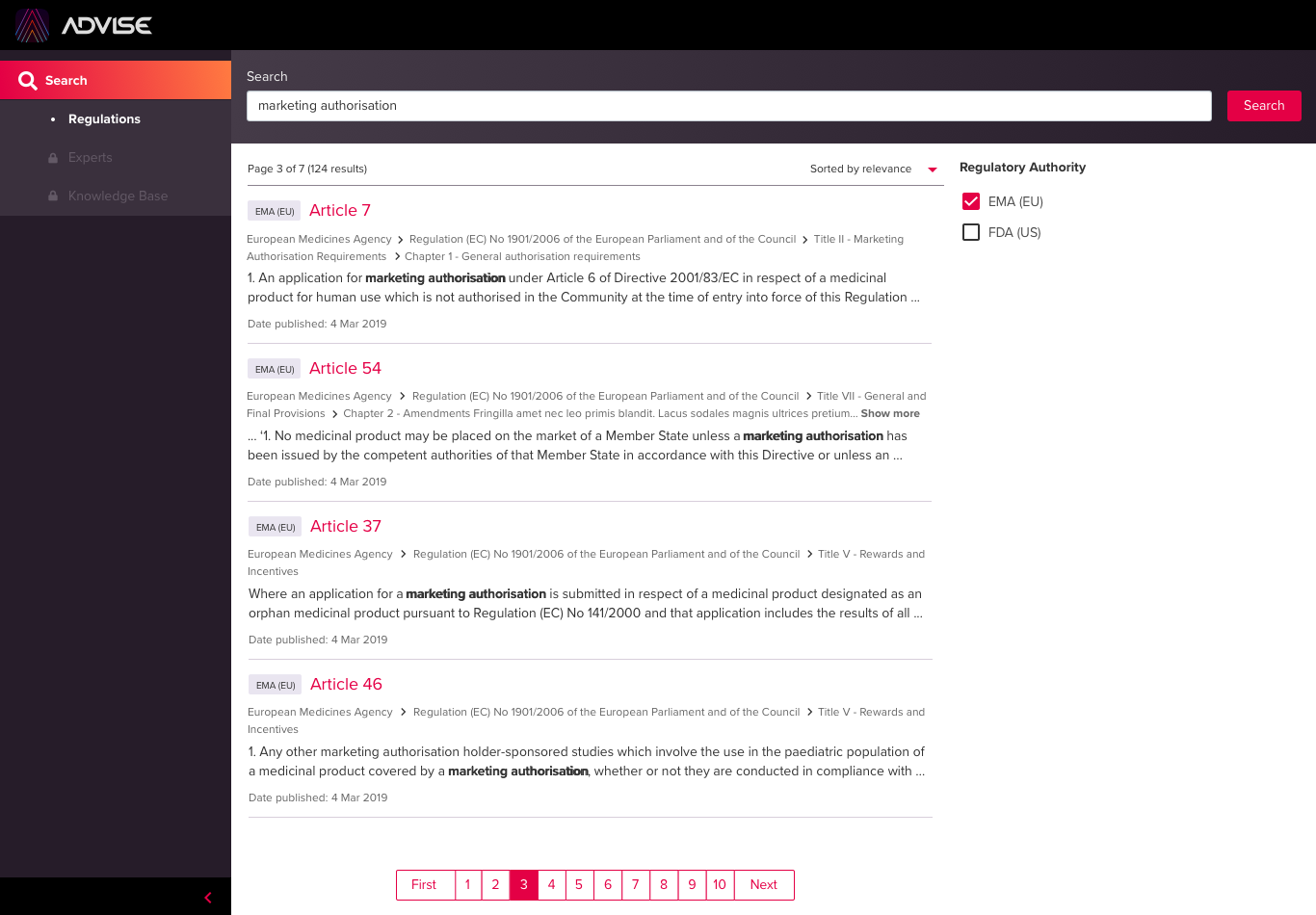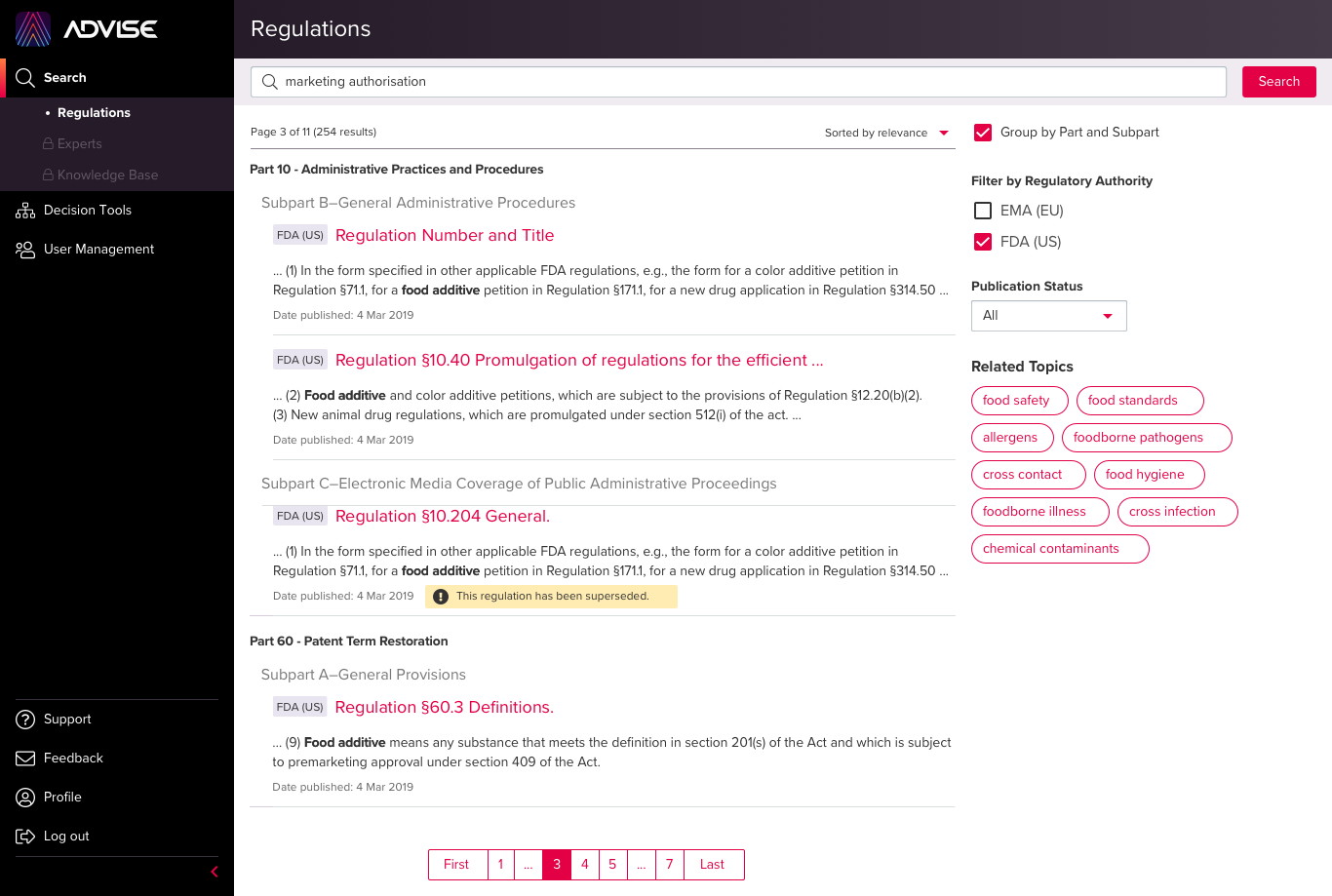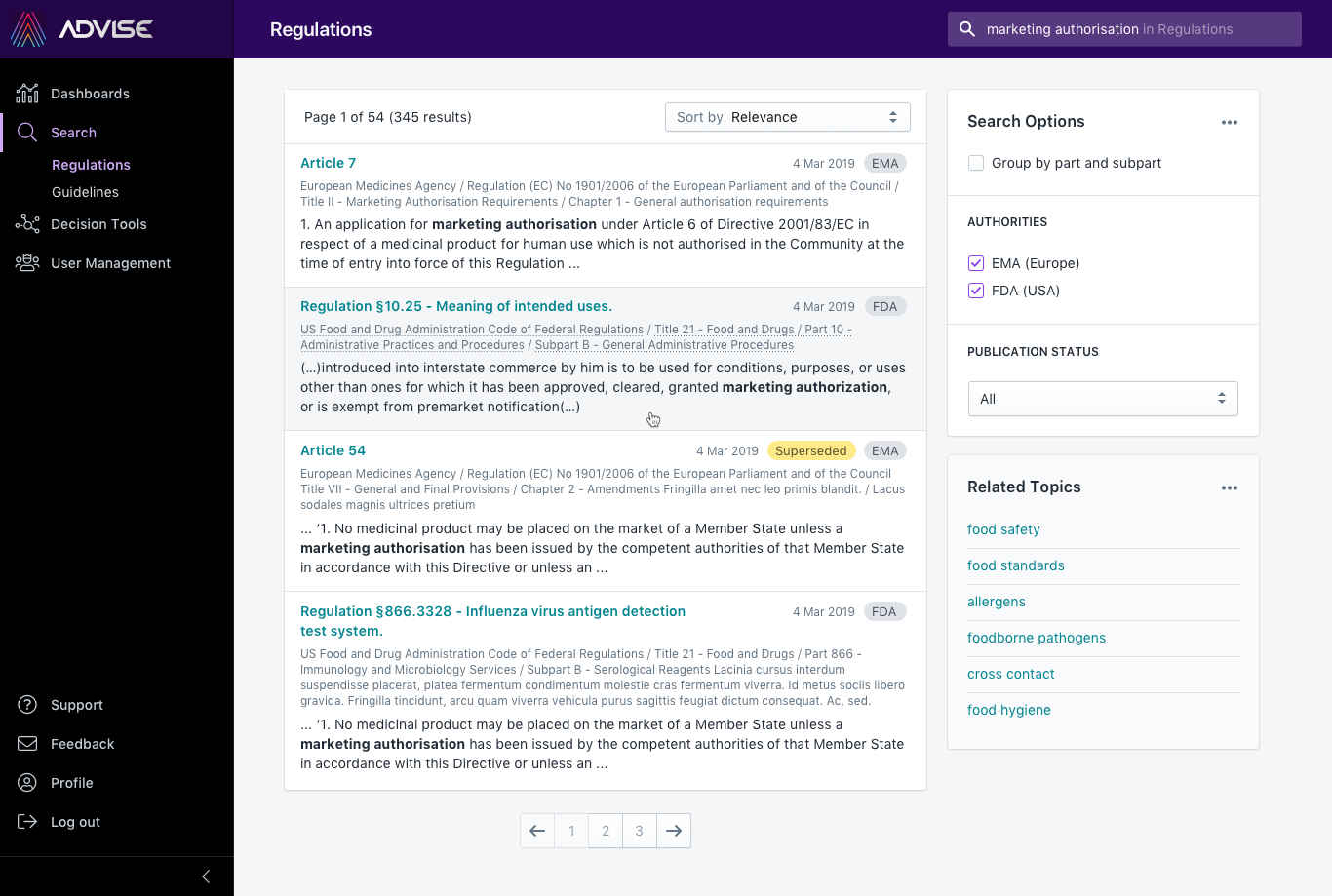 Content Page
Left to right: Features included in KnowLab; wireframes for Advise; with Advise Design System applied.
KnowLab didn't have a warning when viewing a superseded version of a document and an indicator for the latest version.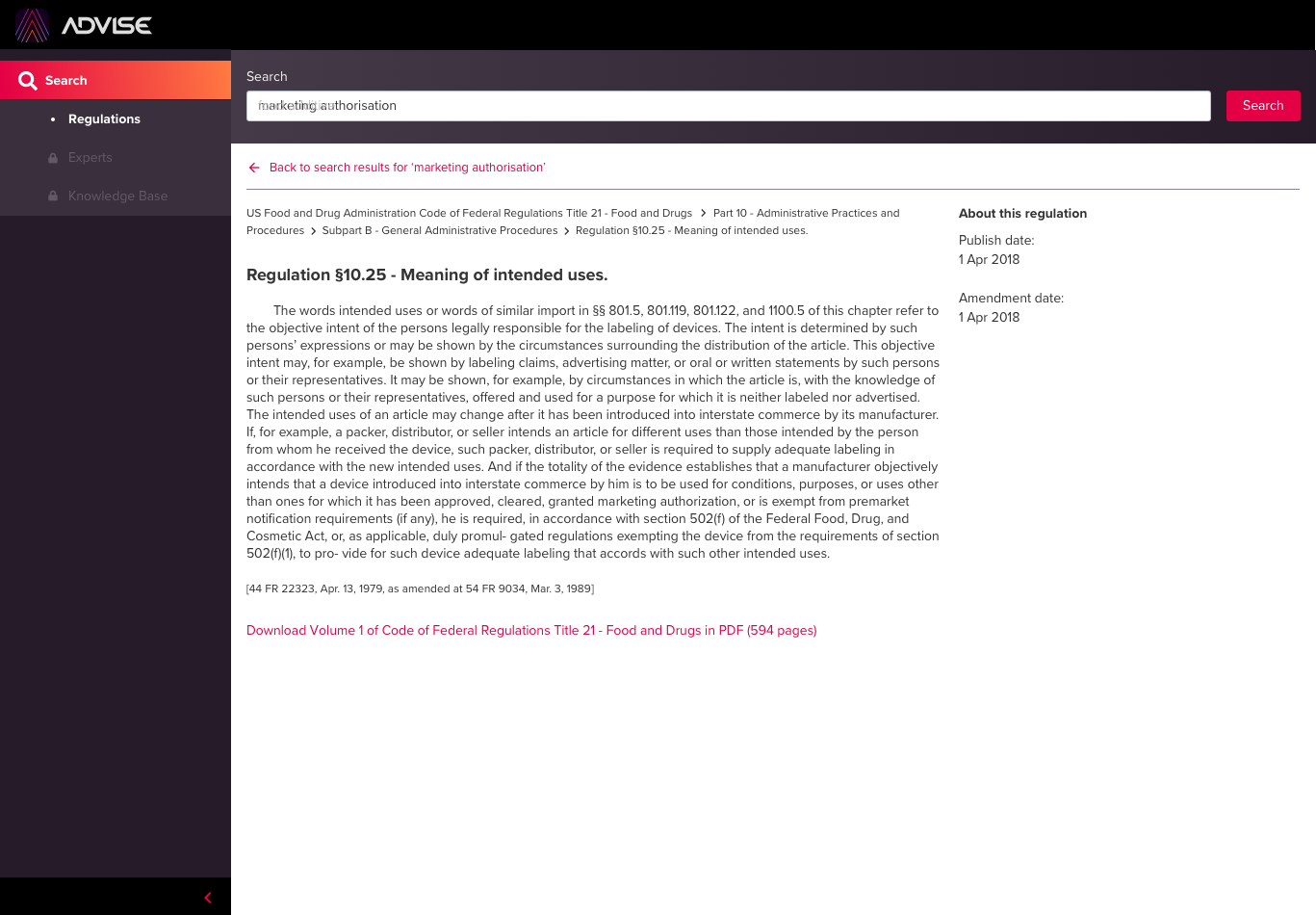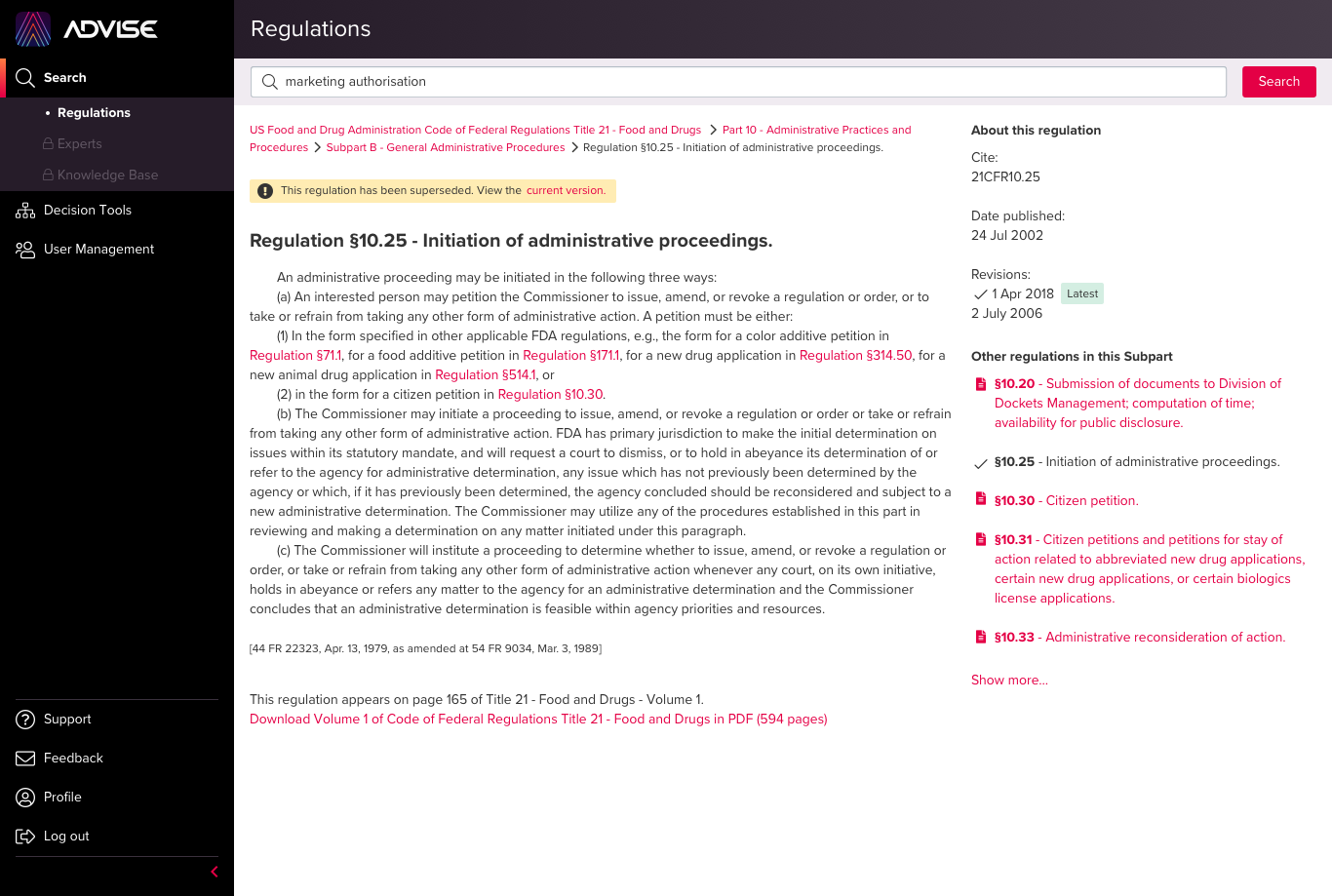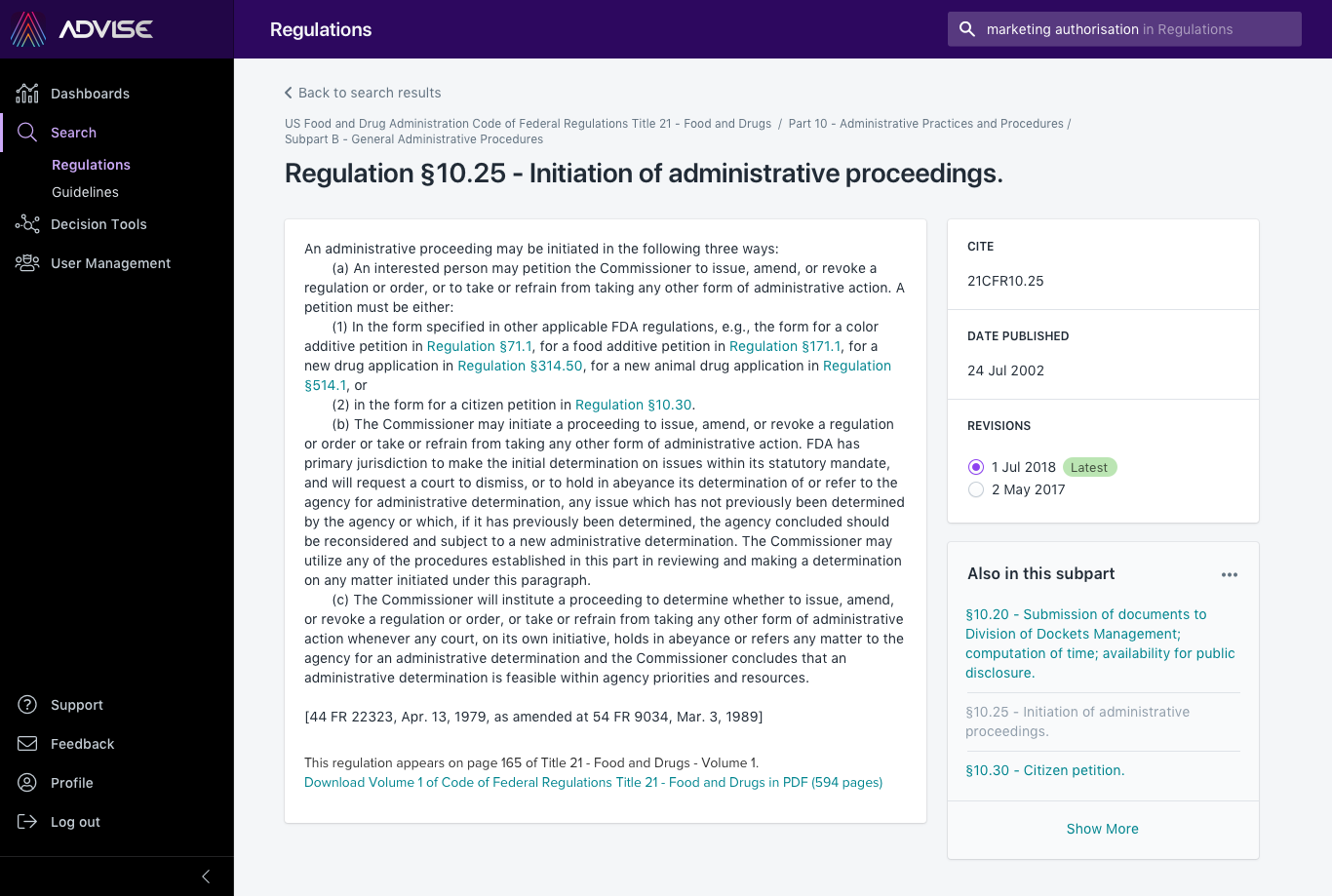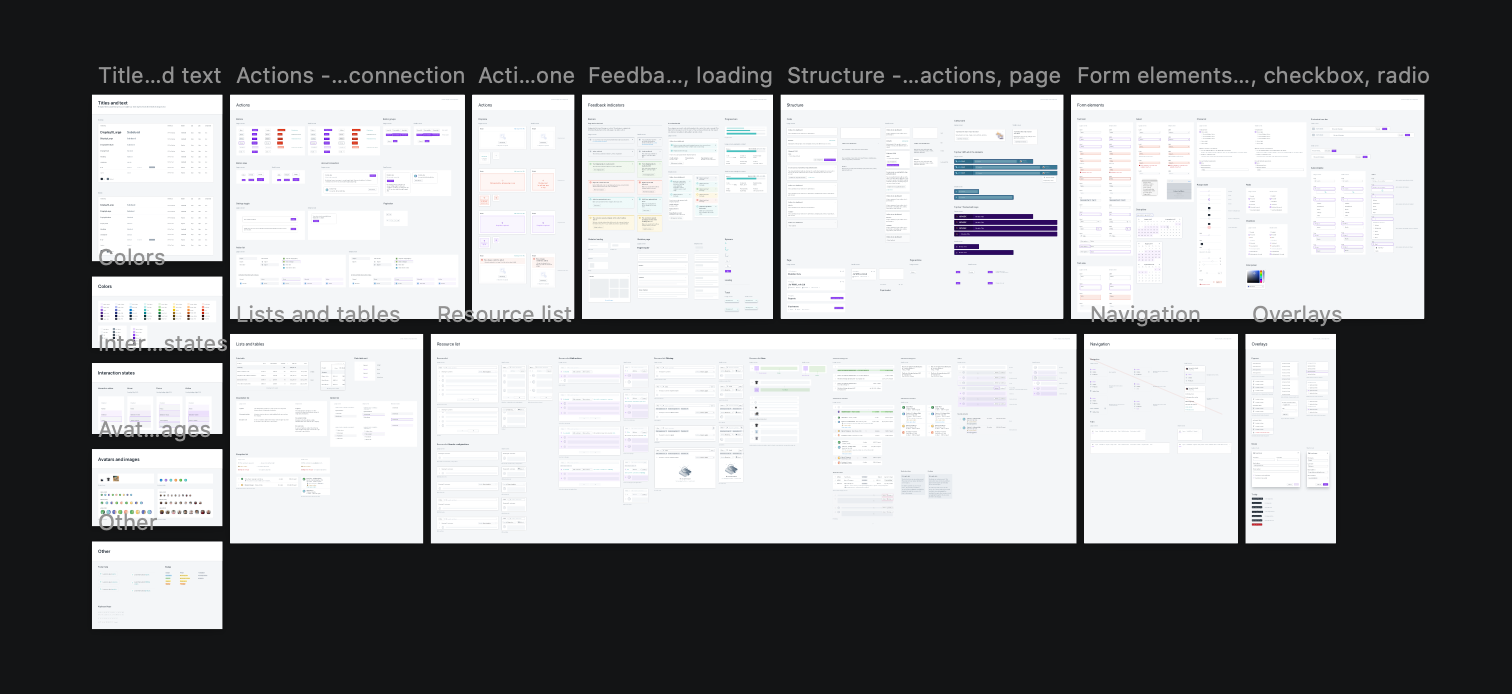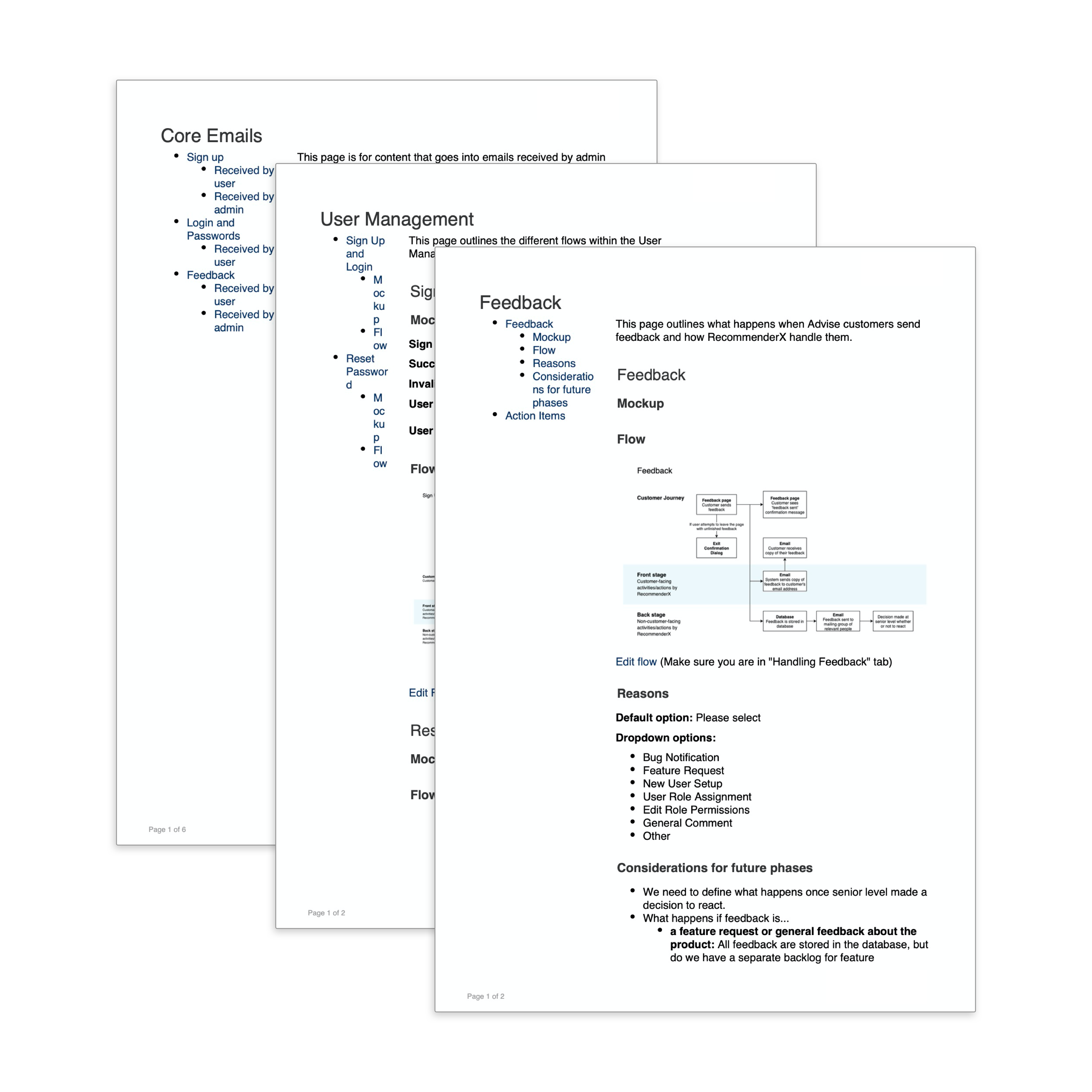 Other platform flows
I also led the user experience for the following flows: Feedback, Sign Up/Login, Reset Password. I also wrote copy for the emails generated by the system relating to these actions.
Outcome
Advise has been deployed in various industries including consumer packaged goods, retail, pharma, and travel. Advise for CPG is available on Azure Marketplace.
You can also find a live demo here. (Registration required)